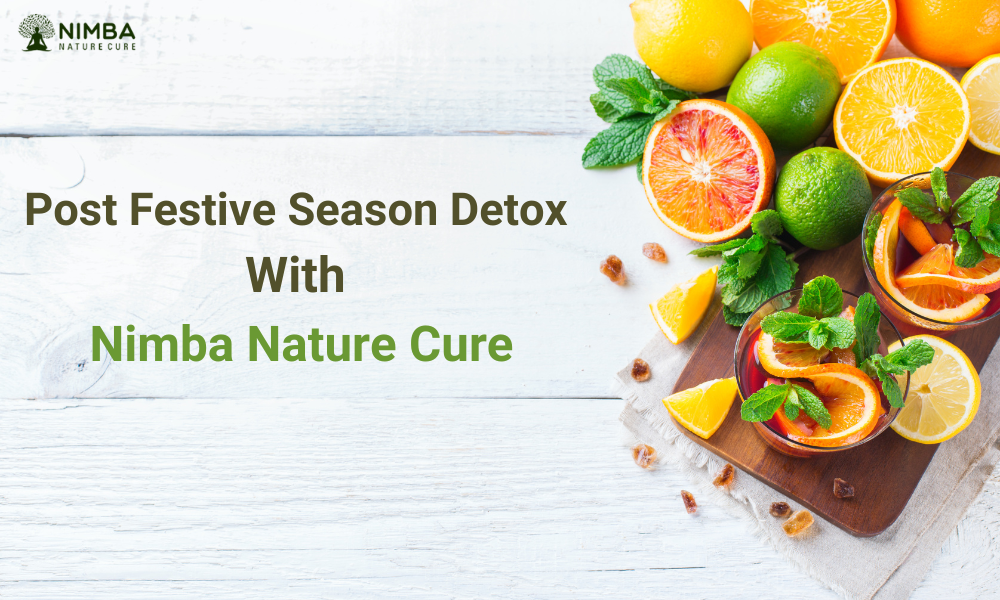 Post Festive Season Detox With Nimba Nature Cure
By: Nimba - October 7, 2022
Are you looking for detoxification sessions after indulging in too many sweets and junk foods this festive season? No matter how much you control yourself, you will definitely end up eating and drinking namkeen snacks, sweets, cold drinks, a lot of appetizers and alcohol. Many people fall sick and face stomach issues after indulging in such activities. Hence, we are here with some detoxification strategies that can help you to get back on track toward your health and fitness. Today, people complain about bloated stomachs, constipation, and acidity after festivals because of their poor immune and digestive systems. In such a situation, people must adopt naturopathy, and detoxification therapies to flush out toxins from their bodies while giving proper rest to the liver and heart.
Post Festive Detox Tips
Keep hydrated yourself:
Drinking plenty of water is essential for many reasons: to prevent infection, keep organs functioning smoothly, deliver nutrients to cells, regulate body temperature, keep joints lubricated, and so on. Moreover, drinking purified water is one of the important things to help your body flush out toxins. Drink at least 8 ounces of water before going to bed. You can book your detoxification session with Nimba Nature Cure to harness the power of healing and experience inner peace after indulging in so many unhealthy habits this post-festival season.
Read also: 10 reasons to go on a detox holiday
Avoid artificial sugar consumption:
Post-festival, avoid taking artificial sugar for at least 1 to 2 weeks to heal yourself and to get back on track with a healthy lifestyle. Strictly, say no to sugary items such as sweets, bakery items, colas, and so on. This offers time for your body to heal and recover. You can have a detox shake with a plant-based protein powder as it will help in supporting the effective function of your liver. You can also have a veggie scramble with avocado cooked in coconut oil. Connect with Nimba Nature Cure to learn more about healthy habits and healthy lifestyle routines:
Read also: 10 Reasons Why Detox Is Important
Hot lemon water:
Lemon is a natural cure for every issue in the stomach, from bloating to indigestion, and also helps in regulating your overall digestion system. For post-festival, you must begin your day by drinking a glass of lemon water and must not add sugar to it. Make this a habit because it will help your body detox quickly and effectively. Read this blog by Nimba to find out the best months for detoxification therapies. You can also add one tablespoon of honey to your lemon water to get relief from constipation.
Avoid meat:
After the holiday season, avoid eating heavy foods like chicken, mutton, fish, or any other non-vegetarian food. You must have a light meal to give the least pressure to your digestive system. You can go for plant protein as it is easy to digest and also improves your overall immune and digestive system. Add more fiber to your meals of the day, as this is the easiest form of detoxification. For example; you can add cucumbers, carrots, salads, sprouts, and leafy green vegetables.
Read also: Things You Need To Know About Ayurvedic Detoxification
Proper sleep and taking some activated charcoal:
You can have activated charcoal as it helps in absorbing toxins from your body. Charcoal has a special kind of digestive tract and, therefore, for post-festive detox, you can have two capsules before going to bed. When we sleep, our body recovers and relaxes, as our body has time to detoxify itself automatically. You must sleep at least 8 to 10 hours and must give bonus points for your sleep in the post-festive time period. This will help you to recover, heal, and reboot your body from festive tiredness. You can also go to a naturopathic therapy session to help recover and heal your body. Nimba Nature Cure offers the best naturopathy and detoxification therapies in India. You can connect with us to find out more about our services.
Are you confused about where to start? Or do you need any kind of help or a detoxification diet plan? If yes! Connect with Nimba Nature Cure Village. We will guide you through the entire process of detoxification, from drink, food to daily exercise. You can go for the Nimba detox package as this package includes everything you need to relax your body after such a tiring festive period. This will start you on your path to optimal health. This package helps rid the body of mucus, toxins, and acids that build up throughout the body. You can also consult our expert nutritionist for one-on-one interaction. Enjoy the festivals, but don't forget to detox!
Read also: Detox your body – the natural way!
Why Must You Start A Post-Diwali Detox?
To effectively regulate your body weight.
To reboot and heal your body after indulging in so many unhealthy foods.
To remove excess sugar from your digestive system.
To restore the balance of your body.
To remove toxins from your body.
Most of people gain weight during the festive season because of the excessive consumption of junk food and sweet food items. therefore; starting with the detox diet and eating a light food meals will help you to reduce and manage your weight. When you consume sugary items, your body demands more insulin. Which is not good at all as it puts a strain on your pancreas. Furthermore; detoxification in such a polluted climate is essential as it directly affects your metabolism and immune system. Get in touch with us to learn about good eating habits and how to maintain a proper diet and daily lifestyle.
Read also: Signs It's the Right Time to Detox
What Is The Best Way To Detox Your Body?
Good food and good drinking habits can be the best way to detoxify yourself for a long period of time. A proper diet and healthy food are beneficial for the proper functioning of your body. For instance, lemon, ginger, garlic, artichoke, cabbage, green tea, fresh fruits and vegetables, watercress and brown rice are the best healthy food options for post-festive detox. Furthermore; Intermittent fasting can also be considered to detox your body and it also helps lower your risk of obesity-related diseases.