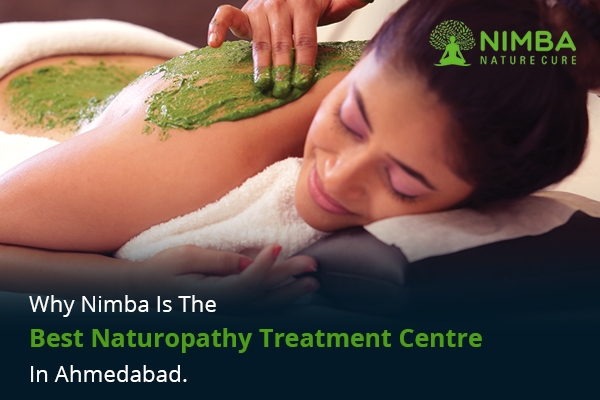 Why Nimba is The Best Naturopathy Treatment Centre In Ahmedabad
Nimba's naturopathy treatment in Ahmedabad is based on the natural method of treating a person to improvise on health of both body and mind by a number of exercises, detoxification treatments, therapies and more. This system of treatment is managed by several nature cure experts who provide instant, convenient and relaxing results to their clients.
If you are in the look for the best naturopathy treatment in Ahmedabad, Nimba is where you will find the answer.
At Nimba, nature cure hospital, the modern methods of medicating the body and mind are ditched for the ancient method of improvising health. This method of treatment contains the crucial equilibrium of the five basic elements of life: Earth, Water, Air, Fire and Ether.
Here you will be treated amid the serenity of nature, fresh air and purity of the medications.
Reasons why Nimba is the best naturopathy centre in Ahmedabad
Nimba, nature cure hospital, has its individualistic method of delivering eccentric, unadulterated and refine health care remedy that compels our health to restore its vitality and clean health.
1.Empowers the power of Mother Nature
'Mother Nature' is a gift to mankind. In Ancient times, people made use of nature to cure themselves of all types of health diseases and problems. This type of treatment helped them cure themselves in no time.
Amidst treatments that encourage medicating with drugs, Nimba takes the initiative to promote Mother Nature and the Ancient method of treatment. This method helps to restore our spiritual, physical and mental wellbeing instantly.
2. Serves treatments for employee health risks
Very few treatment centres provide medications for employee health risks namely stress management and tobacco cessation. Not all medical centres realise the importance of treating employees who have the most distorted body health and mental health.
At Nimba, the extraordinary treatment recognises this and provides a list of rejuvenating treatments namely, corporate stress relief, and Corporate Yoga and weight loss therapies to combat the problem.
This treatment help in preventing further mental and physical corporate stress and relaxes the body to restore its health.
3. A wide range of wellness treatments
This Naturopathy treatment in Ahmedabad offers an array of wellness treatments that promise to detoxify your body and restore its mental, physical and spiritual health. Some of the best naturopathy treatments of Nimba are Mudpack and Diet therapy.
Mudpack is utilised to eliminate toxins in the body that build up and cause detriment to health. This is done via a mud pack over the skin that enables you to feel a cooling sensation alongside feeling thoroughly relaxed. This treatment is also very useful in combating headaches.
Diet therapy includes eating the correct foods in proper proportions so as to maintain a balanced body with no extra fat and problem. This is very useful in improvising the immunity system, healing the body of diseases and curing the body's health. This is a very refined method of treatment.
4. Stimulates the body for healthy exercises
At Nimba, everything is very natural and this naturopathy centre in Ahmedabad also uplifts the idea of exercising daily to energise the body quickly. Exercising is a wonderful way of eradicating health problems and even severe diseases. The best exercises are mostly found in the physiotherapies of Nimba wherein exercises namely Shoulder wheel and Quadriceps tables is encouraged.
This naturopathy centre in Ahmedabad also promotes the idea of Yoga and meditation to relax each organ of the body and restore the serenity by balancing our emotions. Kapal Bhati, Basti Yoga are some of the forms of Yoga practised here.
5. They have their own organic farm!
Chemical Fertilizers and pesticides are killing the quality of fresh fruits and vegetables. At Nimba, you will find their own beautiful, serene and fresh organic farm that contains a vast list of fruits and vegetables for the betterment of health. It emphasises the use of freshly cultivated food in order to avoid chemical fertilizers that are used in the regular farming process. This type of practice of comprising organic farms is not something all naturopathy centres in Ahmedabad provide and thus it makes for the best naturopathy centre in Ahmedabad.
6. Recreation centres to have a fun filled mind
Apart from serving yoga exercises, naturopathy diet and ayurvedic treatments, Nimba also indulges in providing a whole new recreation centre to its clients in order to help them cope with stress and relax their minds for further use. A number of art games and sports equipments at Nimba is encouraged and this also gives way for humble interactions for people. Here you can even make new friends and cope with the feelings of loneliness and tension.
This helps people to engage with their minds in a fun way thereby proving that Nimba is the best Naturopathy centre in Ahmedabad.
7. An array of health festivals and seminars
Nimba is probably the first of its kind to organise events and celebrate health festivals. Yogatsav is one of the most effective and well celebrated Yoga festival at Nimba wherein people practice different styles of Yoga and promote physical, mental and spiritual wellbeing.
A list of seminars is also planned here that help in training people about the importance of health and other forms of healthy exercises.
This enables people to widen their knowledge about the various forms of healthy well-being.
8. Affordable method of treatment
Nimba provides a very affordable method of treatment by offering packages that is present on their websites online. These packages can be selected in accordance with preference and budget in order to make sure it adheres to your requirements. This naturopathy centre in Ahmedabad has a lot to offer in this method.
Conclusion:
We hope that you have been able to understand why Nimba is the best naturopathy centre in Ahmedabad. It provides the best methods to restore improvised body and mind health and we hope you will make use of it too when in need.