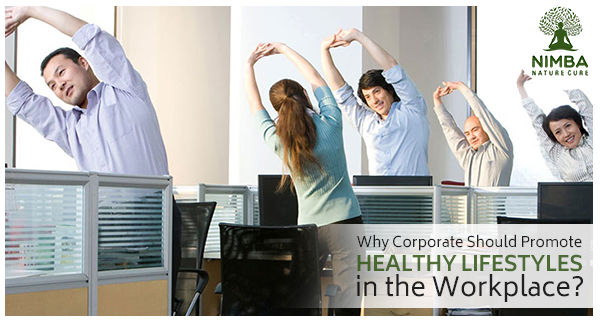 Gift a Healthy Workplace Environment to your employees and your organization
Is your company getting the desired productivity from your employees?
If Yes, It's Awesome. If not, it may be because they are not happy with the work or a strong bonding among your employees is missing. At this juncture, it is wise to introduce a healthy environment, which is inclusive of making employee relations better, for a successful future. This would help your employees to be more 'productive', 'efficient' and 'loyal', on the other hand, ensuring a 'less conflicting' work environment.
Unhealthy lifestyle leads to chronic diseases, resulting in lost productivity. The essence of corporate wellness programs is to encourage individuals. These programs can take preventive measures to avert the onset of an illness. This also helps to head in the direction of a healthier lifestyle.
Because the most important assets of any organization are the employees!
With so many health complications in today's lifestyle, health care costs continue to rise for everyone. A supportive work environment can keep the employees motivated and engaged. This helps to prevent absenteeism and turnover, and to improve employee morale. But more importantly, it helps an employee save money spent on medicines and treatments. Wellness Incentive Programs and Healthy Workplace Environment are a must for every organization, regardless big or small. So, the million dollar question is… What is a Healthy Workplace Environment?
Let's understand the concept of the Healthy Workplace Environment first!
If employees adopt healthy lifestyles, it could lead to a more efficient work environment. It also helps to increase productivity of employees. If not, it can cost employers loads of money to compensate. So, it is vital to incorporate wellness into all aspects of life, including the workplace. Corporate wellness generates many positive outcomes for their employees and the company itself.
A healthy workplace brings a positive outcome even in the most stressful situations. The important thing that influences employee motivation is a healthy corporate environment which improves productivity, reduces costs related to turnover and medical bills, etc.
Do you know?
Google India ranks 2nd when it comes to retaining employees by having many fitness and relaxation facilities. Google believes and ensures that employees need to have the right environment wherein they can grow to their true potential, think creatively and ultimately give their best.
Amazing benefits of Healthy Workplace Environment
It could be hard to notice the advantages of a healthy workplace environment at first glance. But actually, it is helpful for the employees to have such environment. Here are a few benefits of promoting workplace wellness programs:
1. Increased productivity at the workplace
2. Improved performance and positive attitude
3. Reduced instances of leaves due to health problems
4. Faster recovery from the injuries/ diseases
5. Reduced workplace stress and conflicts
6. Improved job satisfaction among employees
7. Improved staff retention
8. The employees feel organization cares for them
Healthy Workplace Environment benefits not only the organization, but also the employees. A Healthy Workplace Environment will get the best out of their employees instantly.
So, every organization should opt for such corporate wellness programs.
The Nimba Naturecure offers various holistic corporate wellness programs in India. The programs focus on mitigating the risks associated with chronic illnesses through natural ways. Nimba educates, motivates, and mobilizes employees towards a healthy lifestyle. Nimba provides integrated therapy plans including Naturopathy, Ayurveda, and Yoga. These programs will help employees overcome various disorders, including heart diseases, diabetes and more.
Business owners and organizations can avail Nimba's Corporate Wellness Programs for their employees. This will not only lead employees to a healthy lifestyle, but it will improve the efficiency of their employees. Share this word with the people you know, who need and are searching for workplace wellness retreat.