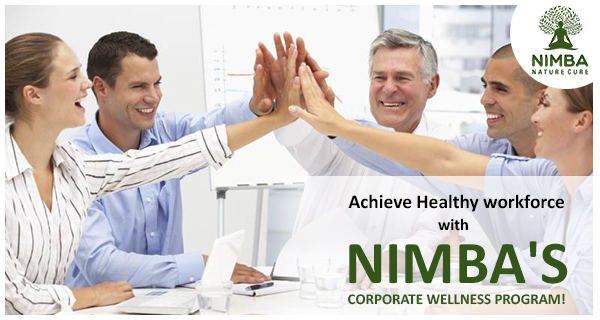 How can you boost the energy of your workforce naturally?
Among so many wellness retreats in the world, Nimba Naturecure is unique, one of Nimba's core purpose is to make workforces healthier and more productive. Nimba's corporate wellness programs help the employees to get relieved from stress and work more energetically. These corporate wellness programs are not meant only for big firms, but they can also be helpful to small businesses.
But why should a business house opt for a corporate wellness program?
If your organization is experiencing these issues, it's a sign that your workforce badly needs a booster dose of positive energy!
Health issues faced by the corporate world:
Nimba addresses the biggest issue of an unhealthy way of living and working in the corporate world. This is the era of cut-throat competition. Employees are so busy running in the race of ambitions, that they have started to ignore their health, just to stay ahead in the competition. Such a race, in which being ahead is of vital importance, is taking the corporate world to a less healthy lifestyle. And it leads to complications like Obesity, Weak eyes, Hypertension, Stress, Fatigue, and Hair loss, etc. All these issues are a major reason behind the rise in the health care expenses for employees. Unhealthy lifestyle, chronic diseases and productivity are all inter-related. As in, unhealthy lifestyle results in chronic diseases which in turn leads to loss of productivity.
The solution is Corporate Wellness Programs!
The main aim of workplace wellness programs is to safeguard employees from occupational health problems. These programs encourage individuals to take preventive measures against illnesses and lead a healthier life.
Wellness incentive programs can be used to reinforce a healthy behavior and to keep the employees motivated and engaged. Also, wellness strategies can be used to prevent absenteeism, reduction in turnover, etc. Worksite health promotion should be viewed as an investment in a business' most important asset, its employees. Studies show that employees are more likely to be on the job and performing well when they are in optimal health.
It's an investment with healthy returns indeed!
Nimba works with the aim of making employees healthy, leading to a healthier corporate world. The point where Nimba stands out from other wellness centres is that Nimba works to equip employees to handle the work related tension easily and maintain good health through natural means. That is why Nimba's Corporate Wellness Programs are truly unique.
Go for Nimba's truly unique Corporate Wellness Programs.
The working of Nimba's Corporate Wellness Programs is quite simple and easy to follow. These corporate wellness programs mainly consist of a change in the food and lifestyle habits. Nimba, through its natural therapies and treatments, helps employees relax and mobilizes them towards a healthy lifestyle. Nimba offers integrated services of detox treatments, ayurveda, naturopathy, and many more alternative therapies. These natural therapies help employees get rid of stress, obesity, fatigue and various other problems. A Corporate Wellness Program helps create a healthy workplace and several other benefits, as listed below…
– Increases productivity at the workplace
– Helps develop a positive attitude
– Helps handle problems easily
– Improves performance
– Reduces absenteeism
– Quick recovery from diseases and injuries
– Reduces work-related stress
– Improves job satisfaction
Nimba focuses on completely mitigating the risks associated with various chronic illnesses through its holistic corporate wellness programs in India. A perfect Corporate Wellness Program entails a few most important tasks which help in treating the entire body as a whole and eradicating all the problems from their roots.
Salient features of the perfectly balanced Corporate Wellness Programs at Nimba:
• Eliminates the toxins from the body
• Gives complete relaxation of body and mind
• Rejuvenates and revitalizes the body
• Optimizes all the body functions and systems
• Brings peace of mind and confidence
• Helps in doing quick and credible decisions
• Explores the new dimensions to complete health
Overcoming stress and psychological pressure of the competition should be a main concern of the corporate world. More stress leads to more problems and less efficiency.
Corporate Wellness Programs keep employees healthy and happy, with a peaceful mind. Looking at these benefits, every organization should regularly organize such programs to get the best output from their employees.
Take a break and enhance your team's productivity.
Choose Nimba's Corporate Wellness Programs and feel the difference.