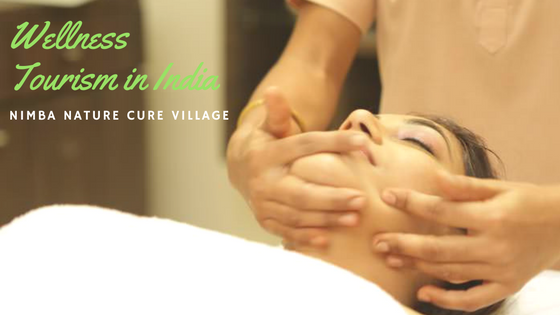 Wellness Tourism in India
Since ages India has been the prime destination for travellers, seeking spiritual renewal and serenity. People visit the ashrams as well as the retreat centres to gain knowledge of the ancient practices and holistic healing processes such as Naturopathy, Ayurveda, Yoga and Meditation. India is the perfect place if you are looking for a disciplined daily life with meditation included in your routine. India is blessed with many such wellness retreat and spiritual centres, taking good care of its visitors. One can escape the bustling city life and take shelter in any among the many wellness centres of India for stress reduction and self-discovery.
Southern India has many such wellness centres where nature lover can escape their busy days peacefully and now western India is becoming favourite spot for such wellness programs too.
NIMBA is western India's premier Naturopathy & Wellness Retreat Centre that helps to restore the natural balance of your mind, body and spirit through ancient medical techniques and contemporary & international therapies clubbed together. Nimba offers unique residential programs on "Panchkarma & Wellness" for Rejuvenation, Detoxification and Treatment of Lifestyle disorders.
Nimba is on a mission to pave the path towards drug-less treatments combined with Nature Cure, Yoga, Meditation and Disciplined Lifestyle, with zero side effects and better quality of life. Nimba has the wide spectrum of Drug-less Therapies to care & cure lifestyle disorder and rejuvenates at its best.
Over 2000 success stories and huge testimony record from the international and domestic clients sets Nimba apart from the contemporaries. The experienced team of doctors, professional therapist and the overall hospitality management together delivers the complete 'Nimba Experience'. Nimba Nature Cure recently received the award for 'Premier Naturopathy & Wellness Retreat' by esteemed ASSOCHAM – the Apex Chamber of Commerce and Industry of India.
Corporate Wellness Programs clubbed with team building programs are also trending at Nimba. Corporates are offering more and more wellness vacations and wellness incentives for the wellbeing of their employees. Hospitals have also tied up with Nimba for post-operative care of their patients. They extend precaution by sending their patients to Nimba for their post-operative care.
It's not just Medical Tourism; rather it is 'Wellness Tourism'.