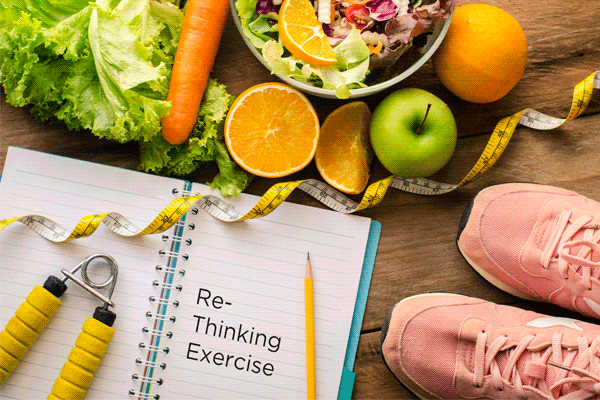 Re-Thinking Exercise
Each day is a new start!
What Is Fitness?
Humans are considered mentally and physically fit when they are able to carry day to day tasks with full energy without substantial exhaustion.
Why Is Fitness Often Ignored?
Humans often forget the importance of a healthy mind and body. Fitness is often ignored in the effort to maintain a balance between professional and personal lives. Along with this, laziness and the desire to not move out of one's comfort zone adds more to an unhealthy lifestyle.
Importance Of Physical And Mental Fitness
Individuals who are not physically fit have reduced energy levels, lower stamina and are less productive. As a result of which they do not have the energy reserve to properly pursue their passions or spend quality time with their loved ones. It ultimately affects their professional and personal world, further deteriorating their mental fitness.
It is also possible that a person may exercise regularly, but he/she could be suffering from stress or anxiety. This affects their physical health as well. So we can surely surmise that physical and mental fitness go hand in hand and one should take care of both of them.
What Are The Consequences When Fitness Is Ignored?
One may go through various unwelcoming consequences if they tend to ignore fitness and decide to stay unfit. Some of the repercussions are mentioned below:
Obesity
Low energy level
Short breath
Heart disease
High blood pressure
High cholesterol
Weak immunity system
Depression
Body image issues
Arthritis and osteoporosis
Poor blood flow
Among these, being overweight and obese are on the top as majority of the country's population in metro cities are suffering from it. So further in the article, more focus is on obesity and the tips and treatments for it.
Natural weight loss tips
People prefer to lose weight naturally without any medical surgery or allopathy medicines.
A healthy diet and regular exercise play a major role in keeping people healthy and losing weight. Some of the natural weight loss tips to stay fit are:
Go for a walk or run
Do not skip breakfast
Track your liquid calories
Take small steps each day to reach your fitness goal
Do not set unrealistic fitness targets
Minimise junk food from your lifestyle
Get enough sleep
Meditate
Eat meals in correct portion
Chew meals properly
Reduce carbs from the meal
Naturopathy Treatment For Weight Loss
There are various wellness centres in India that deliver the best naturopathy treatment for weight loss. It includes naturopathy treatments like Abhyangam, Udhvartan, etc. Naturopathy also includes therapies like acupuncture, diet therapy, hydrotherapy, yoga exercises and herbal massages that together contribute in treating obesity.
How Nimba Can Help To Treat Obesity?
Nimba provides the best naturopathy treatment for weight loss as mentioned above and more, under the guidance of some of the best healers. It helps to treat obesity and other related diseases that occur because of it. Along with physical fitness, Nimba takes care of your mental fitness too, with the help of yoga and meditation. A dincharya is planned that takes care of your eating, exercising and sleeping habits. They also provide various herbal remedies and a suitable diet plan to provide permanent weight loss solutions.