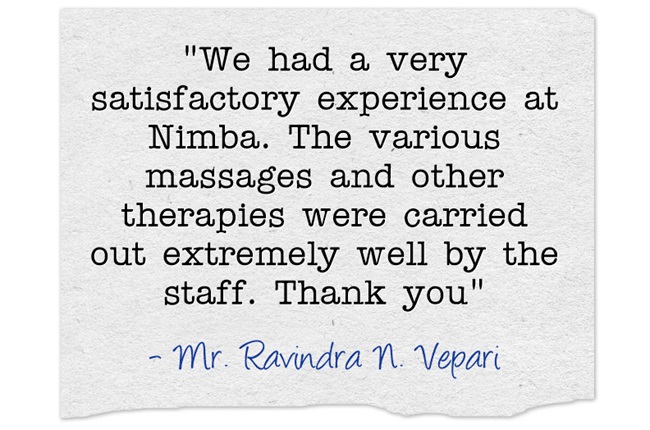 Naturopathy is the way of life we choose, thanks Nimba
Mr. Ravindra N. Vepari – Eminent Chartered Accountant
Mr. Ravindra Vepari is an eminent chartered accountant based in Surat – the Diamond City of India. From 16th December to 24th December 2016, Mr. Ravindra Vepari availed the Wellness Programme for 9 days at Nimba Nature Cure Village – the leading Naturopathy and Wellness Centre in Gujarat. Along with his family, Mr. Ravindra experienced the unique therapies encompassing Yogasana, Reflexology, Music/ Raaga therapy, Massage and Naturopathy diet.
Mr. Ravindra appreciated the experts and their sincere efforts throughout the duration of treatment.
"During consultation, the Chief Medical Officer Dr. Joykumar Singh patiently listened to all our problems and thereafter he framed the entire plan." He says explaining the in-depth research of one's medical condition. "Dynamic Amrutaben, ever smiling Rashmiben and Dr. Bhaskarji, explained and exhibited Jalneti and various Asanas which we are able to perform now." He added. Mr. Ravindra specially appreciated Dr. Trivedi for very well monitored diet and the knowledge of Naturopathy recipes; and Dr. Mihirbhai for well-balanced exercise regime.
Appreciating the rare combination of science and naturopathy at Nimba,Mr. Ravindra said,
"We had a very satisfactory experience at Nimba. The various massages and other therapies were carried out extremely well by the staff. Thank you."