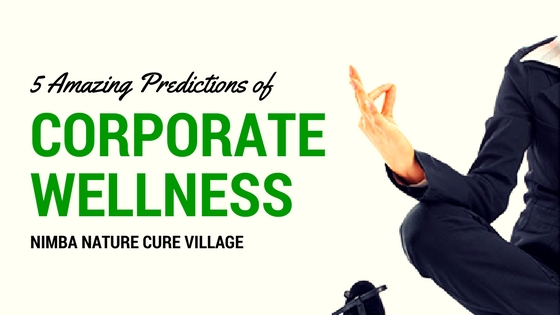 5 Amazing Corporate Wellness Predictions 2017
Since the world started to see the first wind of corporate wellness trend, it has been debated in boardrooms across the globe, over millions of times. The way industrial scenario has grown recently, with technology in the driver seat; the same workforce now executes 100 times more work than what they did 30 years back. Obviously, this is possible only at the expense of mental health of employees. It is only recently that Stress and Sedentary lifestyle have become disorders. And corporates are feeling a lack of momentum as employees are overloaded. Earlier it was considered as a picnic vacation, now it's an integral part of HR policy. Corporate Wellness is set to reveal some exciting new frontiers in 2017.
Check out…
ROI to VOI shift
Earlier the management was seeking a strong or at least noticeable Return on Investment, from employee wellness programs. It is however not an incentive that starts putting profit from next quarter. Now the Value of Investment is much more important than ROI because it creates priceless "intangible assets" for the corporates. The employees are 'employees with better health, comfort and energy' with corporate wellness programs because of the value that they create. Corporate Wellness Programs give stronger corporate performance, it's proven science.
Offline Living
Technology is a boon, and it is a curse too. Now a day, employees talk less and Email each other more. There is a state of soulless interaction without any passion in corporate as well as personal communication. Shift back to face-to-face interactions, living in the abundance of nature and relinquishing excessive connectivity with silent spa are new trend of work-life balance. Rather than staring at screens, employee can see landscapes, which energize them and reduce stress.
It's Wellness, not only Healing
Whatever it takes to keep your workforce rocking, from earlier presumption of Corporate Wellness as a weight loss/ cardiac/ diabetes care program for a weekend, it has evolved to a complete package involving art, music, literature and dance too. It is important because people spend most of their waking hours at work. This trend comes with flexibility in work hours for a dance rehearsal or gym or a concert over the weekend. Corporate Wellness today features stress relief, nutrition, finance, social relationship, mindfulness, and even spirituality.
No more 'Top Management Only'
The most crucial requirement of the organization is always, increased productivity. Top management is fine; it's the executives, the real doers that need Corporate Wellness Programs to prevent occupational illnesses. This core unit of organization with adequate morale and motivation can face any challenges and meet the goals. Encouraging the employees to set goals/ deadlines for Physical and Mental wellness and help them achieve it, increases job satisfaction resulting employees feeling that employer cares about them.
Way to get top talent
There has been an explosion of population and there are floods of young work force. But corporates would try hard to convince the bunch of talented ones to work with them. Not just the yearly packages, other employee welfare activities and programs would make the organization desirable. Because healthy and motivated everyday life is much more than what money can buy. It reduces medical costs, hence more saving of money and time, and more employee retention.
For corporates seeking to push their productivity by utilizing the same resources, opting out the Corporate Wellness Programs will help to boost their employees' morale. In 2017, technology is going to evolve even further, giving many more new hurdles to overcome, and completely changing the way employees work. Engaging with naturopathy and stress management, back care and tobacco cessation programs through wellness retreats and spa facilities at Nimba Nature Cure Village would be the best choice for corporates in 2017.
Corporate Wellness Programs at Nimba Nature Cure Village can be the one solution for your corporate ambitions and goals of your employees. It is important that before the customers, the employees love a company first.